What Does An Accredited Diploma In Internet Marketing Do For You?
Simon Coulson is the founder of the Internet Business School and he successfully transitioned from a corporate job with BT, into a highly successful Internet Business Owner in a few short years.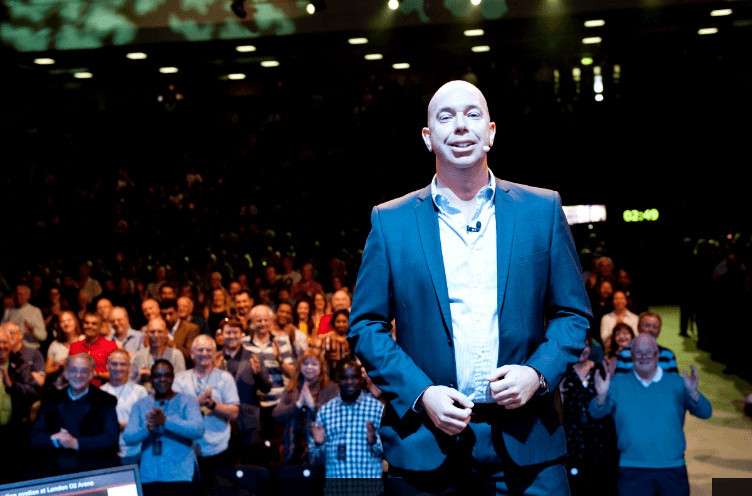 Simon Coulson´s Story
Simon commuted from his small house in Kent into London daily to work at BT´s corporate Headquarters in London.
With his corporate job at the time, he was able to afford a small Ford Fiesta.
One day on the way back to his home in Kent after a long day in the office, Simon collapsed on the escalator to the tube line. Commuters were rushing to get their evening trains and were stepping over Simon who lay on the ground, extremely ill. Eventually, a kind person stopped and asked Simon if he was ok, but he wasn't. Simon had collapsed from stress and exhaustion, and he was just 37 years old. The rat race had taken its toll on Simon in just a few short years of commuting and corporate business life and he knew it was time for him to get out of the rat race before it killed him.
Fortunately, BT was at that time offering a redundancy programme for people who wished to leave, so Simon took that option and departed from corporate life with a lump sum cash payment of 17k.
Then Simon had to decide what he was going to do for his future living and decided on some investments with his redundancy cash. Investment number 1 was a van to transport his band, which was  a ColdPlay tribute band. Although Simon enjoyed playing music in his band it was clear that they were never going to earn a lot of money from small gigs here and there, as there was not much money left after paying for petrol for the van and drinks for the band.
With the remaining money, Simon invested in a property in Bulgaria, because they were cheap, Bulgaria having just joined the European Union. To this day, Simon has still not visited that property.
Simon´s First Business After Leaving Corporate Life
What the property in Bulgaria did do for Simon, however was to give him an idea for a business. Simon wrote explainer books about How To Buy Property In Bulgaria. This was a success! So Simon repeated that formula and wrote other books about How To Buy Property In….. and then a series of other new European countries, all of which were successful.
Simon saw that there was a demand for information products, and education and he founded the Internet Business School, which is now the biggest online eduction provider in the UK.

Simon also became a follower of Andrew Reynolds who is a highly successful internet marketer, and also Andrew is Simon´s mentor.

Andrew Reynolds has earned more than 80 million pounds sterling from his various online marketing businesses.
So Simon transformed from selling his time for money in a coporate job which was highly stressful and tiring into a highly successful online entrepreneur in just a few short years.
Simon´s transformation has also been related to his personal wealth as well. Instaead of driving a Ford Fiesta, Simon bought himself a Ferrari firstly, which he later replaced with a couple of Bentleys as his current cars, bought from the proceeds of his newfound wealth.
Whereas Simon´s holidays were spent in Benidrm and other Spanish resorts , like many people from the UK, he now travels to exotic locations including a holiday with Sir Richard Branson on his Necker island hideaway. What a difference!

Why Am I Telling You Simon Coulson´s Story?
The reason that I am telling you Simon Coulson´s story is to explain just what sort of wealth creation is possible with Internet Marketingand more importantly:
What Does An Accredited Diploma In Internet Marketing Do For You?
It is no coincidence that Simon is an extremely talented and successful Internet Marketer, when he has a mentor such as Andrew Reynolds who has accumulated vast personal wealth from the sale of Information Products, more than 80million GBP. Simon has earned more than 25million GBP from the same sort of internet marketing methods.
Andrew advocates adopting successful ideas that already work, and adapt and improve them for your own personal profit.
What Is Our Opinion And Recommendation Regarding:
What Does An Accredited Diploma In Internet Marketing Do For You?
The writer has been following Andrew Reynolds and Simon Coulson since mid 2018, and has adopted some of their methods in order to achieve success in building an online business.
We know that the methods and techniques adopted by Andrew Reynolds and Simon Coulson work very well.
We have personally undertaken the Accredited Diploma In Internet Marketing from the Internet Business School, and followed this and other training from the IBS.
Our recommendation is that you check out the Accredited Diploma In Internet Marketing from the Internet Business School, and if you think it is right for you then sign up for it.
This is our affiliate link for that course at the Internet Business School, so if you sign up via this IBS Affilate Link For Accredited Diploma then we will earn a commission from the IBS.
If your knowledge of Internet Marketing is limited then you can do yourself a favour and sign up for this course, which will be a step on your journey towards generating immense wealth if you follow the methods of SImon Coulson and his mentor Andrew Reynolds.
The IBS Accredited Diploma In Internet Marketing is a Continuous Professiona Development accredited qualification, so you can be confident about its professionalism and quality.
Internet Marketing methods are continually changing and Simon ensures that all his training is continually updated to reflect the latest methods that work. This is not theoretical training, but practitioners training that is working in the market place right now.
If you are still not sure, then comment on this article and we will give you an honest opinion regarding an answer, or drop us an email to alan@alanjeonline.com, and we will respond quickly.