Career Dilemmas – Time for a Change, or Just Beginning?
Career Dilemmas – Time for a Change, or Just Beginning?
By John Stephenson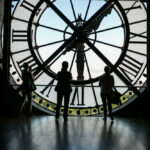 Are You Stuck in Your Job and Need a New Career, Or Just Starting Out With Questions? Career Dilemmas – Time for a Change, or Just Beginning?
It's Probably The Most Important Decision You Will Ever Make, And We're Here to Help!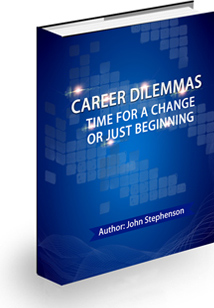 Click here if you would like to buy Ebook: Career Dilemmas by John Stephenson
Dear Friend!
Sometimes in life, you find yourself at a crossroads!  It's somewhere between "settling in life for the job that you have, or jeopardizing paying your bills and switching careers!"
Sometimes, it's starting out in life and not knowing which career to choose.
Either way, it's an important part of life, where you need direction, help, advice, and understanding.
For me personally, I didn't take my career seriously for some time.  I was in a dead-end job, and for me, life was more about fun.  Then I got smart and realized I needed to go back to school, further my education, and start making some real money.  But I didn't want to make a mistake and choose the wrong career!  I already did that once.  This time I had to make the "right decision"…
That decision involved a lot of self-reflection.  Where was it I really wanted to be in life?  What job or career was really going to make me happy?
I realized that one thing that really made me happy was helping others.  Friends, strangers, family, it didn't matter. But helping others was something I truly enjoyed.
"What makes YOUR heart sing?"
Sometimes we just don't know, and that's okay!
Maybe you could see yourself in a job that you just feel is out of reach, or perhaps you just don't know which way to turn in this economy.
With the fast pace of life nowadays, you really have to consider if technology will put you out of a job.
What kind of career is well-paid and sustainable?  That's a really important question to ponder!
Above all else, you need to be in a job that you love, not just tolerate.
If you're in a job today that you like, but you don't feel fulfilled, think about a change that is parallel to your career and won't take moving mountains to achieve.  Unless of course, you are really looking for a complete change.
Furthering your education doesn't have to be daunting.  But you do need to know what direction to go in before you start making any changes at all.
You might be asking yourself, where do I turn next?  How can I change my life?
Well, help is at hand.
Let us guide you through the process!
Don't worry anymore about finding the right career.  You only have one life and you should be happy in your job.  This eBook will show you how to achieve your dreams!
It's a no-risk, 60-day money-back guarantee!  Invest in your future and change your life!
No longer will you feel like you're dragging yourself to work.  Even in your existing job there may be options to make your situation better while you change career paths. Career Dilemmas – Time for a Change, or Just Beginning?
You spend too much time working to not be happy!
IMMEDIATE DOWNLOAD!  Start learning right away how to change your life for the better!
Start Changing Your Life For The Better Today!
Click here if you would like to buy Ebook: Career Dilemmas by John Stephenson