How to Write Simple Articles That Sell!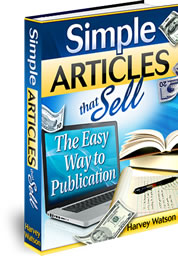 Click here if you would like to buy Ebook: Simple Articles That Sell!
Dear Reader,
See if this sounds problem sounds familiar, then click here to buy: Write Simple Articles That Sell!
You just got another batch of spam advertising touting the latest and greatest way to get terrific content for your business.  And every doggone one of those email messages are trying to sell you the same thing.
It's another piece of super-duper software that will "spin" articles into unrecognizable sentences that are supposed to dazzle your prospects into buying whatever it is you're selling. Not to mention get you banned from the search engines.
Yeah, right.  What's the old saying?  I know a guy who will sell you the Brooklyn Bridge too!  Let's get real for just a minute.  People who use those articles rarely, if ever, become truly successful online.
They are just trying another dog and pony tactic to shortcut their way to success.  Sadly, they usually fall flat.  What you need is real, fresh content that has the ring of believability to it because you believe in it.
Listen, don't believe all those lies that say you have to hire someone to write your articles for you; that you aren't intelligent enough to write for yourself.  You don't need that kind of expense.
That's just hogwash!  If you are able to manoeuvre yourself around the Internet, you can certainly write articles.  Will it be uncomfortable?  Sure it will, in the beginning.  Is it easy?  At first, probably not.
So What Is It Already?

What it IS is "simple."  Remember KISS?  "Keep It Simple Sweetheart."  Okay, so maybe you used that other word.  But we're trying to be nice here, okay?
Anyway, people really try to make writing difficult.  We are talking about articles not brain surgery.  You don't need to write technical manuals that are going to be used to send us back to the moon.
And, you aren't looking to compete for a Pulitzer, after all.  You just need to tell a story.  Have you ever read your child a bedtime story?  Take a look at one of those children's books. Really read it.
3 Things You Will Discover When You Do

It has a beginning.

It has a middle.

And, it has an end.
Pretty "simple" huh? That's the problem, most of the gurus who are selling you all the "how to stuff" have to make it sound mysterious.  Otherwise, you wouldn't be buying their expensive "how to" courses, now would you?
If you are serious about learning how to write your own articles we have just the thing for you. It's a terrific little guide called "Simple Articles That Sell."
and the best part is . . .
You don't need any special education. It's very easy to read.
It doesn't require much time to get the basics you need – You can start preparing as soon as you've read the guide.
Cost is minimal – Once you've discovered what you need to get started you'll find it's a real bargain!
Take a peek inside and you will find out everything you need to know to start getting new customers:
Planning your article
Selecting a powerful title
How reading fiction can help
And more!
And, at just $17.00 this is a terrific value!
No-Risk, 100% money Back Guarantee!
We truly hope you see the potential here and realize how important this offer is!  You can learn all of this Risk-Free!
We want "Simple Articles That Sell" to be an absolute, 100% positive decision for you.  That's why you can order your copy with complete peace of mind.
If you don't believe that "Simple Articles That Sell" has given you the knowledge to write your own articles, just let us know and we will refund your purchase price no questions asked.
It's really easy to get started. You just need to click the link below and you will have your copy in minutes. Once you have your own copy of "Simple Articles That Sell" you are armed and ready to start your quest.
You know that you are acquiring knowledge that can reap benefits for years. We guarantee it! Start now!  Click the link below for your copy. You'll be glad you did.
Click here if you would like to buy Ebook: Simple Articles That Sell!